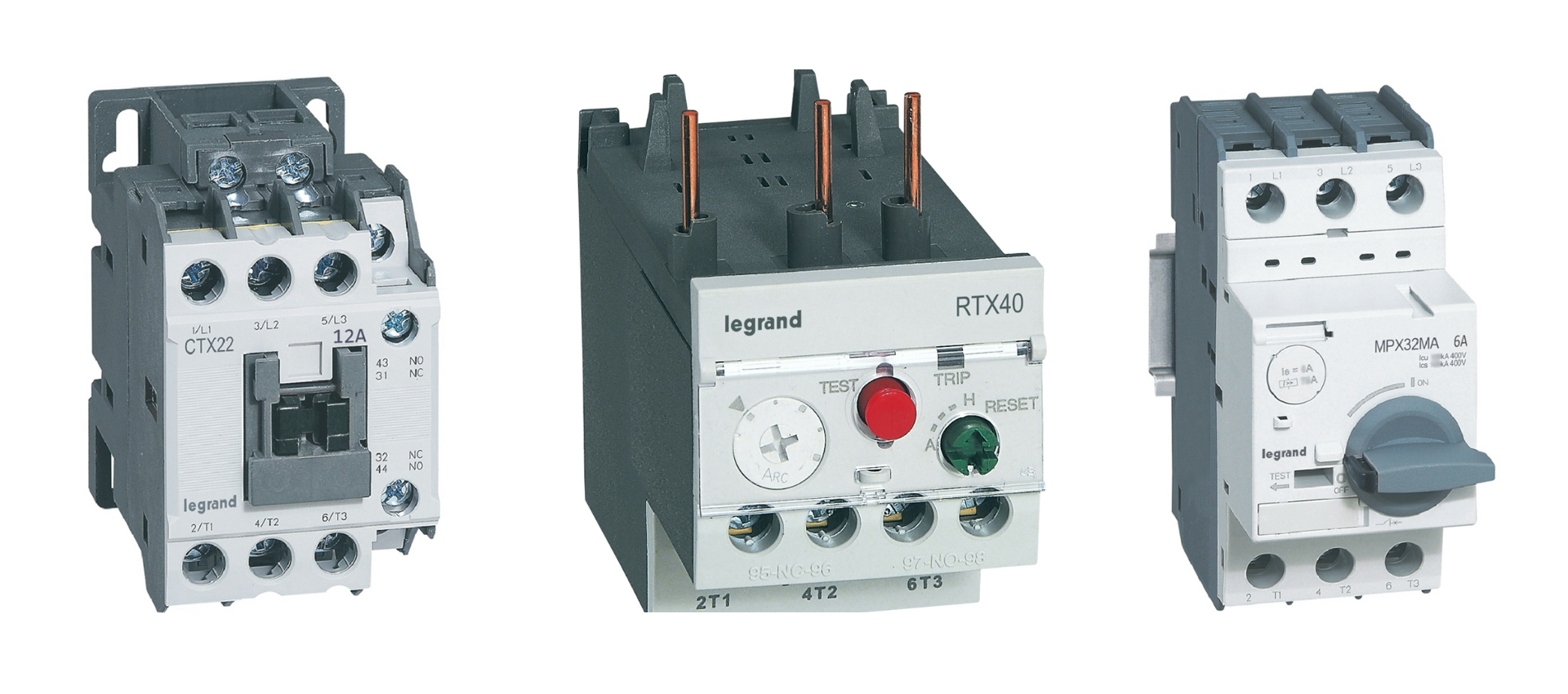 POWER CONTACTOR & OVER LOAD RELAY | CTX3 RTX3 MPX3
There are requirements for control and protection of motors in all sectors: heating, ventilation and air conditioning in commercial buildings; pumps, compressors, conveyors and machines in industrial buildings, etc. Legrand's new contactors, thermal relays and motor protection circuit breakers provide a response for all these applications.

Their high performance levels, perfect complementarity, compact size, ease of mounting, wide range of auxiliaries, etc. make them suitable for installation in all distribution boards and control enclosures.
CTX³ contactors and RTX³ thermal relays up to 800 A, 3-pole and 4-pole contactors, complete range of auxiliaries and accessories.
Conform to IEC 60947-1, IEC 60947-4-1
Can be equipped with RTX3 thermal relays add-on auxiliary contact blocks, time delay blocks, capacitor switching units and CTX3 interlocking
MPX³ motor PRO TECTION circuit breakers up to 100 A, High breaking capacity and type 2 coordination for an optimum service level, Trip class 10,
Sensitive to phase loss, Easy combination with CTX³ 3-pole contactors & Complete range of control and signaling auxiliaries and accessories
Conform to IEC 60 947-1, IEC 60 947-2, IEC 60 947-4
| Part number | Description |
| --- | --- |
| 416080 | CTX³ CONTACTOR 3P 9A 1NO1NC 24V AC SCREW SZ2 |
| 416081 | CTX³ CONTACTOR 3P 9A 1NO1NC 24V DC SCREW SZ2 |
| 416084 | CTX³ CONTACTOR 3P 9A 1NO1NC 110V AC SCREW SZ2 |
| 416086 | CTX³ CONTACTOR 3P 9A 1NO1NC 230V AC SCREW SZ2 |
| 416089 | CTX³ CONTACTOR 3P 9A 1NO1NC 415V AC SCREW SZ2 |
| 416090 | CTX³ CONTACTOR 3P 12A 1NO1NC 24V AC SCREW SZ2 |
| 416091 | CTX³ CONTACTOR 3P 12A 1NO1NC 24V DC SCREW SZ2 |
| 416094 | CTX³ CONTACTOR 3P 12A 1NO1NC 110V AC SCREW SZ2 |
| 416096 | CTX³ CONTACTOR 3P 12A 1NO1NC 230V AC SCREW SZ2 |
| 416099 | CTX³ CONTACTOR 3P 12A 1NO1NC 415V AC SCREW SZ2 |
| 416100 | CTX³ CONTACTOR 3P 18A 1NO1NC 24V AC SCREW SZ2 |
| 416101 | CTX³ CONTACTOR 3P 18A 1NO1NC 24V DC SCREW SZ2 |
| 416104 | CTX³ CONTACTOR 3P 18A 1NO1NC 110V AC SCREW SZ2 |
| 416106 | CTX³ CONTACTOR 3P 18A 1NO1NC 230V AC SCREW SZ2 |
| 416109 | CTX³ CONTACTOR 3P 18A 1NO1NC 415V AC SCREW SZ2 |
| 416110 | CTX³ CONTACTOR 3P 22A 1NO1NC 24V AC SCREW SZ2 |
| 416111 | CTX³ CONTACTOR 3P 22A 1NO1NC 24V DC SCREW SZ2 |
| 416114 | CTX³ CONTACTOR 3P 22A 1NO1NC 110V AC SCREW SZ2 |
| 416116 | CTX³ CONTACTOR 3P 22A 1NO1NC 230V AC SCREW SZ2 |
| 416119 | CTX³ CONTACTOR 3P 22A 1NO1NC 415V AC SCREW SZ2 |
| 416120 | CTX³ CONTACTOR 3P 32A 2NO2NC 24V AC SCREW SZ3 |
| 416121 | CTX³ CONTACTOR 3P 32A 2NO2NC 24V DC SCREW SZ3 |
| 416124 | CTX³ CONTACTOR 3P 32A 2NO2NC 110V AC SCREW SZ3 |
| 416126 | CTX³ CONTACTOR 3P 32A 2NO2NC 230V AC SCREW SZ3 |
| 416129 | CTX³ CONTACTOR 3P 32A 2NO2NC 415V AC SCREW SZ3 |
| 416130 | CTX³ CONTACTOR 3P 40A 2NO2NC 24V AC SCREW SZ3 |
| 416131 | CTX³ CONTACTOR 3P 40A 2NO2NC 24V DC SCREW SZ3 |
| 416134 | CTX³ CONTACTOR 3P 40A 2NO2NC 110V AC SCREW SZ3 |
| 416136 | CTX³ CONTACTOR 3P 40A 2NO2NC 230V AC SCREW SZ3 |
| 416139 | CTX³ CONTACTOR 3P 40A 2NO2NC 415V AC SCREW SZ3 |
| 416140 | CTX³ CONTACTOR 3P 50A 2NO2NC 24V AC SCREW SZ4 |
| 416141 | CTX³ CONTACTOR 3P 50A 2NO2NC 24V DC SCREW SZ4 |
| 416144 | CTX³ CONTACTOR 3P 50A 2NO2NC 110V AC SCREW SZ4 |
| 416146 | CTX³ CONTACTOR 3P 50A 2NO2NC 230V AC SCREW SZ4 |
| 416149 | CTX³ CONTACTOR 3P 50A 2NO2NC 415V AC SCREW SZ4 |
| 416150 | CTX³ CONTACTOR 3P 50A 2NO2NC 24V AC LUG SZ4 |
| 416151 | CTX³ CONTACTOR 3P 50A 2NO2NC 24V DC LUG SZ4 |
| 416154 | CTX³ CONTACTOR 3P 50A 2NO2NC 110V AC LUG SZ4 |
| 416156 | CTX³ CONTACTOR 3P 50A 2NO2NC 230V AC LUG SZ4 |
| 416159 | CTX³ CONTACTOR 3P 50A 2NO2NC 415V AC LUG SZ4 |
| 416160 | CTX³ CONTACTOR 3P 65A 2NO2NC 24V AC SCREW SZ4 |
| 416161 | CTX³ CONTACTOR 3P 65A 2NO2NC 24V DC SCREW SZ4 |
| 416164 | CTX³ CONTACTOR 3P 65A 2NO2NC 110V AC SCREW SZ4 |
| 416166 | CTX³ CONTACTOR 3P 65A 2NO2NC 230V AC SCREW SZ4 |
| 416169 | CTX³ CONTACTOR 3P 65A 2NO2NC 415V AC SCREW SZ4 |
| 416170 | CTX³ CONTACTOR 3P 65A 2NO2NC 24V AC LUG SZ4 |
| 416171 | CTX³ CONTACTOR 3P 65A 2NO2NC 24V DC LUG SZ4 |
| 416174 | CTX³ CONTACTOR 3P 65A 2NO2NC 110V AC LUG SZ4 |
| 416176 | CTX³ CONTACTOR 3P 65A 2NO2NC 230V AC LUG SZ4 |
| 416179 | CTX³ CONTACTOR 3P 65A 2NO2NC 415V AC LUG SZ4 |
| 416180 | CTX³ CONTACTOR 3P 75A 2NO2NC 24V AC SCREW SZ5 |
| 416181 | CTX³ CONTACTOR 3P 75A 2NO2NC 24V DC SCREW SZ5 |
| 416184 | CTX³ CONTACTOR 3P 75A 2NO2NC 110V AC SCREW SZ5 |
| 416186 | CTX³ CONTACTOR 3P 75A 2NO2NC 230V AC SCREW SZ5 |
| 416189 | CTX³ CONTACTOR 3P 75A 2NO2NC 415V AC SCREW SZ5 |
| 416190 | CTX³ CONTACTOR 3P 75A 2NO2NC 24V AC LUG SZ5 |
| 416191 | CTX³ CONTACTOR 3P 75A 2NO2NC 24V DC LUG SZ5 |
| 416194 | CTX³ CONTACTOR 3P 75A 2NO2NC 110V AC LUG SZ5 |
| 416196 | CTX³ CONTACTOR 3P 75A 2NO2NC 230V AC LUG SZ5 |
| 416199 | CTX³ CONTACTOR 3P 75A 2NO2NC 415V AC LUG SZ5 |
| 416200 | CTX³ CONTACTOR 3P 85A 2NO2NC 24V AC SCREW SZ5 |
| 416201 | CTX³ CONTACTOR 3P 85A 2NO2NC 24V DC SCREW SZ5 |
| 416204 | CTX³ CONTACTOR 3P 85A 2NO2NC 110V AC SCREW SZ5 |
| 416206 | CTX³ CONTACTOR 3P 85A 2NO2NC 230V AC SCREW SZ5 |
| 416209 | CTX³ CONTACTOR 3P 85A 2NO2NC 415V AC SCREW SZ5 |
| 416210 | CTX³ CONTACTOR 3P 85A 2NO2NC 24V AC LUG SZ5 |
| 416211 | CTX³ CONTACTOR 3P 85A 2NO2NC 24V DC LUG SZ5 |
| 416214 | CTX³ CONTACTOR 3P 85A 2NO2NC 110V AC LUG SZ5 |
| 416216 | CTX³ CONTACTOR 3P 85A 2NO2NC 230V AC LUG SZ5 |
| 416219 | CTX³ CONTACTOR 3P 85A 2NO2NC 415V AC LUG SZ5 |
| 416220 | CTX³ CONTACTOR 3P 100A 2NO2NC 24V AC SCREW SZ5 |
| 416221 | CTX³ CONTACTOR 3P 100A 2NO2NC 24V DC SCREW SZ5 |
| 416224 | CTX³ CONTACTOR 3P 100A 2NO2NC 110V AC SCREW SZ5 |
| 416226 | CTX³ CONTACTOR 3P 100A 2NO2NC 230V AC SCREW SZ5 |
| 416229 | CTX³ CONTACTOR 3P 100A 2NO2NC 415V AC SCREW SZ5 |
| 416230 | CTX³ CONTACTOR 3P 100A 2NO2NC 24V AC LUG SZ5 |
| 416231 | CTX³ CONTACTOR 3P 100A 2NO2NC 24V DC LUG SZ5 |
| 416234 | CTX³ CONTACTOR 3P 100A 2NO2NC 110V AC LUG SZ5 |
| 416236 | CTX³ CONTACTOR 3P 100A 2NO2NC 230V AC LUG SZ5 |
| 416239 | CTX³ CONTACTOR 3P 100A 2NO2NC 415V AC LUG SZ5 |
| 416240 | CTX³ CONTACTOR 3P 130A 2NO2NC 24V AC SCREW SZ6 |
| 416241 | CTX³ CONTACTOR 3P 130A 2NO2NC 24V DC SCREW SZ6 |
| 416246 | CTX³ CONTACTOR 3P 130A 2NO2NC 100-240V AC/DC SCREW SZ6 |
| 416249 | CTX³ CONTACTOR 3P 130A 2NO2NC 415V AC SCREW SZ6 |
| 416250 | CTX³ CONTACTOR 3P 130A 2NO2NC 24V AC LUG SZ6 |
| 416251 | CTX³ CONTACTOR 3P 130A 2NO2NC 24V DC LUG SZ6 |
| 416256 | CTX³ CONTACTOR 3P 130A 2NO2NC 100-240V AC/DC LUG SZ6 |
| 416259 | CTX³ CONTACTOR 3P 130A 2NO2NC 415V AC LUG SZ6 |
| 416260 | CTX³ CONTACTOR 3P 150A 2NO2NC 24V AC SCREW SZ6 |
| 416261 | CTX³ CONTACTOR 3P 150A 2NO2NC 24V DC SCREW SZ6 |
| 416266 | CTX³ CONTACTOR 3P 150A 2NO2NC 100-240V AC/DC SCREW SZ6 |
| 416269 | CTX³ CONTACTOR 3P 150A 2NO2NC 415V AC SCREW SZ6 |
| 416270 | CTX³ CONTACTOR 3P 150A 2NO2NC 24V AC LUG SZ6 |
| 416271 | CTX³ CONTACTOR 3P 150A 2NO2NC 24V DC LUG SZ6 |
| 416276 | CTX³ CONTACTOR 3P 150A 2NO2NC 100-240V AC/DC LUG SZ6 |
| 416279 | CTX³ CONTACTOR 3P 150A 2NO2NC 415V AC LUG SZ6 |
| 416280 | CTX³ CONTACTOR 3P 185A 24V AC/DC SZ7 |
| 416286 | CTX³ CONTACTOR 3P 185A 100V-240V AC/DC SZ7 |
| 416289 | CTX³ CONTACTOR 3P 185A 380V-450V AC SZ7 |
| 416290 | CTX³ CONTACTOR 3P 225A 24V AC/DC SZ7 |
| 416296 | CTX³ CONTACTOR 3P 225A 100V-240V AC/DC SZ7 |
| 416299 | CTX³ CONTACTOR 3P 225A 380V-450V AC SZ7 |
| 416306 | CTX³ CONTACTOR 3P 265A 100V-240V AC/DC SZ8 |
| 416309 | CTX³ CONTACTOR 3P 265A 380V-450V AC SZ8 |
| 416316 | CTX³ CONTACTOR 3P 330A 100V-240V AC/DC SZ8 |
| 416319 | CTX³ CONTACTOR 3P 330A 380V-450V AC SZ8 |
| 416326 | CTX³ CONTACTOR 3P 400A 100V-240V AC/DC SZ8 |
| 416329 | CTX³ CONTACTOR 3P 400A 380V-450V AC SZ8 |
| 416336 | CTX³ CONTACTOR 3P 500A 200V-240V AC/DC SZ9 |
| 416339 | CTX³ CONTACTOR 3P 500A 380V-450V AC SZ9 |
| 416346 | CTX³ CONTACTOR 3P 630A 200V-240V AC/DC SZ9 |
| 416349 | CTX³ CONTACTOR 3P 630A 380V-450V AC SZ9 |
| 416356 | CTX³ CONTACTOR 3P 800A 200V-240V AC/DC SZ9 |
| 416359 | CTX³ CONTACTOR 3P 800A 380V-450V AC SZ9 |
| 416426 | CTX³ CONTACTOR 4P 40A 230V AC SCREW SZ11 |
| 416436 | CTX³ CONTACTOR 4P 60A 230V AC SCREW SZ11 |
| 416446 | CTX³ CONTACTOR 4P 100A 230V AC SCREW SZ12 |
| 416456 | CTX³ CONTACTOR 4P 135A 230V AC SCREW SZ12 |
| 416466 | CTX³ CONTACTOR 4P 165A 100-240V ACDC SZ13 |
| 416476 | CTX³ CONTACTOR 4P 250A 100-240V ACDC SZ13 |
| 416486 | CTX³ CONTACTOR 4P 330A 100-240V ACDC SZ13 |
| 416496 | CTX³ CONTACTOR 4P 420A 100-240V ACDC SZ14 |
| 416506 | CTX³ CONTACTOR 4P 500A 100-240V ACDC SZ14 |
| 416516 | CTX³ CONTACTOR 4P 750A 200-240V ACDC SZ15 |
| 416526 | CTX³ CONTACTOR 4P 900A 200-240V ACDC SZ15 |
| 416591 | SEPARATE MOUNTING UNIT FOR RTX RELAYS SZ2,3 |
| 416592 | SEPARATE MOUNTING UNIT FOR RTX RELAYS SZ2,3 40A |
| 416593 | SEPARATE MOUNTING UNIT FOR RTX RELAYS SZ4 SCREW |
| 416594 | SEPARATE MOUNTING UNIT FOR RTX RELAYS SZ4 LUG |
| 416595 | SEPARATE MOUNTING UNIT FOR RTX RELAYS SZ5 SCREW |
| 416596 | SEPARATE MOUNTING UNIT FOR RTX RELAYS SZ5 LUG |
| 416597 | SEPARATE MOUNTING UNIT FOR RTX RELAYS SZ6 SCREW |
| 416598 | SEPARATE MOUNTING UNIT FOR RTX RELAYS SZ6 LUG |
| 416640 | RTX THERMAL OVERLOAD RELAY 0.1-0.16A CLASS 10A NON DIFFERENTIAL SZ2,3 |
| 416641 | RTX THERMAL OVERLOAD RELAY 0.16-0.25A CLASS 10A NON DIFFERENTIAL SZ2,3 |
| 416642 | RTX THERMAL OVERLOAD RELAY 0.25 - 0.4A CLASS 10A NON DIFFERENTIAL SZ2,3 |
| 416643 | RTX THERMAL OVERLOAD RELAY 0.4-0.63A CLASS 10A NON DIFFERENTIAL SZ2,3 |
| 416644 | RTX THERMAL OVERLOAD RELAY 0.63-1.0A CLASS 10A NON DIFFERENTIAL SZ2,3 |
| 416645 | RTX THERMAL OVERLOAD RELAY 1.0-1.6A CLASS 10A NON DIFFERENTIAL SZ2,3 |
| 416646 | RTX THERMAL OVERLOAD RELAY 1.6-2.5A CLASS 10A NON DIFFERENTIAL SZ2,3 |
| 416647 | RTX THERMAL OVERLOAD RELAY 2.5-4.0A CLASS 10A NON DIFFERENTIAL SZ2,3 |
| 416648 | RTX THERMAL OVERLOAD RELAY 4-6A CLASS 10A NON DIFFERENTIAL SZ2,3 |
| 416649 | RTX THERMAL OVERLOAD RELAY 5-8A CLASS 10A NON DIFFERENTIAL SZ2,3 |
| 416650 | RTX THERMAL OVERLOAD RELAY 6-9A CLASS 10A NON DIFFERENTIAL SZ2,3 |
| 416651 | RTX THERMAL OVERLOAD RELAY 7-10A CLASS 10A NON DIFFERENTIAL SZ2,3 |
| 416652 | RTX THERMAL OVERLOAD RELAY 9-13A CLASS 10A NON DIFFERENTIAL SZ2,3 |
| 416653 | RTX THERMAL OVERLOAD RELAY 12-18A CLASS 10A NON DIFFERENTIAL SZ2,3 |
| 416654 | RTX THERMAL OVERLOAD RELAY 16-22A CLASS 10A NON DIFFERENTIAL SZ2,3 |
| 416655 | RTX THERMAL OVERLOAD RELAY 18-25A CLASS 10A NON DIFFERENTIAL SZ2,3 |
| 416656 | RTX THERMAL OVERLOAD RELAY 22-32A CLASS 10A NON DIFFERENTIAL SZ2,3 |
| 416657 | RTX THERMAL OVERLOAD RELAY 28-40A CLASS 10A NON DIFFERENTIAL SZ2,3 |
| 416660 | RTX THERMAL OVERLOAD RELAY 0.1-0.16A CLASS 10A DIFFERENTIAL SZ2,3 |
| 416661 | RTX THERMAL OVERLOAD RELAY 0.16-0.25A CLASS 10A DIFFERENTIAL SZ2,3 |
| 416662 | RTX THERMAL OVERLOAD RELAY 0.25 - 0.4A CLASS 10A DIFFERENTIAL SZ2,3 |
| 416663 | RTX THERMAL OVERLOAD RELAY 0.4-0.63A CLASS 10A DIFFERENTIAL SZ2,3 |
| 416664 | RTX THERMAL OVERLOAD RELAY 0.63-1.0A CLASS 10A DIFFERENTIAL SZ2,3 |
| 416665 | RTX THERMAL OVERLOAD RELAY 1.0-1.6A CLASS 10A DIFFERENTIAL SZ2,3 |
| 416666 | RTX THERMAL OVERLOAD RELAY 1.6-2.5A CLASS 10A DIFFERENTIAL SZ2,3 |
| 416667 | RTX THERMAL OVERLOAD RELAY 2.5-4.0A CLASS 10A DIFFERENTIAL SZ2,3 |
| 416668 | RTX THERMAL OVERLOAD RELAY 4-6A CLASS 10A DIFFERENTIAL SZ2,3 |
| 416669 | RTX THERMAL OVERLOAD RELAY 5-8A CLASS 10A DIFFERENTIAL SZ2,3 |
| 416670 | RTX THERMAL OVERLOAD RELAY 6-9A CLASS 10A DIFFERENTIAL SZ2,3 |
| 416671 | RTX THERMAL OVERLOAD RELAY 7-10A CLASS 10A DIFFERENTIAL SZ2,3 |
| 416672 | RTX THERMAL OVERLOAD RELAY 9-13A CLASS 10A DIFFERENTIAL SZ2,3 |
| 416673 | RTX THERMAL OVERLOAD RELAY 12-18A CLASS 10A DIFFERENTIAL SZ2,3 |
| 416674 | RTX THERMAL OVERLOAD RELAY 16-22A CLASS 10A DIFFERENTIAL SZ2,3 |
| 416675 | RTX THERMAL OVERLOAD RELAY 18-25A CLASS 10A DIFFERENTIAL SZ2,3 |
| 416676 | RTX THERMAL OVERLOAD RELAY 22-32A CLASS 10A DIFFERENTIAL SZ2,3 |
| 416677 | RTX THERMAL OVERLOAD RELAY 28-40A CLASS 10A DIFFERENTIAL SZ2,3 |
| 416683 | RTX THERMAL OVERLOAD RELAY 9-13A CLASS 10A NON DIFFERENTIAL SZ4 |
| 416684 | RTX THERMAL OVERLOAD RELAY 12-18A CLASS 10A NON DIFFERENTIAL SZ4 |
| 416685 | RTX THERMAL OVERLOAD RELAY 16-22A CLASS 10A NON DIFFERENTIAL SZ4 |
| 416686 | RTX THERMAL OVERLOAD RELAY 18-25A CLASS 10A NON DIFFERENTIAL SZ4 |
| 416687 | RTX THERMAL OVERLOAD RELAY 22-32A CLASS 10A NON DIFFERENTIAL SZ4 |
| 416688 | RTX THERMAL OVERLOAD RELAY 28-40A CLASS 10A NON DIFFERENTIAL SZ4 |
| 416689 | RTX THERMAL OVERLOAD RELAY 34-50A CLASS 10A NON DIFFERENTIAL SZ4 |
| 416690 | RTX THERMAL OVERLOAD RELAY 45-65A CLASS 10A NON DIFFERENTIAL SZ4 |
| 416703 | RTX THERMAL OVERLOAD RELAY 9-13A CLASS 10A DIFFERENTIAL SZ4 |
| 416704 | RTX THERMAL OVERLOAD RELAY 12-18A CLASS 10A DIFFERENTIAL SZ4 |
| 416705 | RTX THERMAL OVERLOAD RELAY 16-22A CLASS 10A DIFFERENTIAL SZ4 |
| 416706 | RTX THERMAL OVERLOAD RELAY 18-25A CLASS 10A DIFFERENTIAL SZ4 |
| 416707 | RTX THERMAL OVERLOAD RELAY 22-32A CLASS 10A DIFFERENTIAL SZ4 |
| 416708 | RTX THERMAL OVERLOAD RELAY 28-40A CLASS 10A DIFFERENTIAL SZ4 |
| 416709 | RTX THERMAL OVERLOAD RELAY 34-50A CLASS 10A DIFFERENTIAL SZ4 |
| 416710 | RTX THERMAL OVERLOAD RELAY 45-65A CLASS 10A DIFFERENTIAL SZ4 |
| 416723 | RTX THERMAL OVERLOAD RELAY 18-25A CLASS 10A NON DIFFERENTIAL SZ5 |
| 416724 | RTX THERMAL OVERLOAD RELAY 22-32A CLASS 10A NON DIFFERENTIAL SZ5 |
| 416725 | RTX THERMAL OVERLOAD RELAY 28-40A CLASS 10A NON DIFFERENTIAL SZ5 |
| 416726 | RTX THERMAL OVERLOAD RELAY 34-50A CLASS 10A NON DIFFERENTIAL SZ5 |
| 416727 | RTX THERMAL OVERLOAD RELAY 45-65A CLASS 10A NON DIFFERENTIAL SZ5 |
| 416728 | RTX THERMAL OVERLOAD RELAY 54-75A CLASS 10A NON DIFFERENTIAL SZ5 |
| 416729 | RTX THERMAL OVERLOAD RELAY 63-85A CLASS 10A NON DIFFERENTIAL SZ5 |
| 416730 | RTX THERMAL OVERLOAD RELAY 70-95A CLASS 10A NON DIFFERENTIAL SZ5 |
| 416731 | RTX THERMAL OVERLOAD RELAY 80-100A CLASS 10A NON DIFFERENTIAL SZ5 |
| 416743 | RTX THERMAL OVERLOAD RELAY 18-25A CLASS 10A DIFFERENTIAL SZ5 |
| 416744 | RTX THERMAL OVERLOAD RELAY 22-32A CLASS 10A DIFFERENTIAL SZ5 |
| 416745 | RTX THERMAL OVERLOAD RELAY 28-40A CLASS 10A DIFFERENTIAL SZ5 |
| 416746 | RTX THERMAL OVERLOAD RELAY 34-50A CLASS 10A DIFFERENTIAL SZ5 |
| 416747 | RTX THERMAL OVERLOAD RELAY 45-65A CLASS 10A DIFFERENTIAL SZ5 |
| 416748 | RTX THERMAL OVERLOAD RELAY 54-75A CLASS 10A DIFFERENTIAL SZ5 |
| 416749 | RTX THERMAL OVERLOAD RELAY 63-85A CLASS 10A DIFFERENTIAL SZ5 |
| 416750 | RTX THERMAL OVERLOAD RELAY 70-95A CLASS 10A DIFFERENTIAL SZ5 |
| 416751 | RTX THERMAL OVERLOAD RELAY 80-100A CLASS 10A DIFFERENTIAL SZ5 |
| 416760 | RTX THERMAL OVERLOAD RELAY 45-65A CLASS 10A NON DIFFERENTIAL SZ6 |
| 416761 | RTX THERMAL OVERLOAD RELAY 54-75A CLASS 10A NON DIFFERENTIAL SZ6 |
| 416762 | RTX THERMAL OVERLOAD RELAY 63-85A CLASS 10A NON DIFFERENTIAL SZ6 |
| 416763 | RTX THERMAL OVERLOAD RELAY 70-95A CLASS 10A NON DIFFERENTIAL SZ6 |
| 416764 | RTX THERMAL OVERLOAD RELAY 80-100A CLASS 10A NON DIFFERENTIAL SZ6 |
| 416765 | RTX THERMAL OVERLOAD RELAY 110-150A CLASS 10A NON DIFFERENTIAL SZ6 |
| 416770 | RTX THERMAL OVERLOAD RELAY 45-65A CLASS 10A DIFFERENTIAL SZ6 |
| 416771 | RTX THERMAL OVERLOAD RELAY 54-75A CLASS 10A DIFFERENTIAL SZ6 |
| 416772 | RTX THERMAL OVERLOAD RELAY 63-85A CLASS 10A DIFFERENTIAL SZ6 |
| 416773 | RTX THERMAL OVERLOAD RELAY 70-95A CLASS 10A DIFFERENTIAL SZ6 |
| 416774 | RTX THERMAL OVERLOAD RELAY 80-100A CLASS 10A DIFFERENTIAL SZ6 |
| 416775 | RTX THERMAL OVERLOAD RELAY 110-150A CLASS 10A DIFFERENTIAL SZ6 |
| 416780 | RTX THERMAL OVERLOAD RELAY 65-100A CLASS 10A DIFFERENTIAL SZ7 |
| 416781 | RTX THERMAL OVERLOAD RELAY 85-125A CLASS 10A DIFFERENTIAL SZ7 |
| 416782 | RTX THERMAL OVERLOAD RELAY 100-160A CLASS 10A DIFFERENTIAL SZ7 |
| 416783 | RTX THERMAL OVERLOAD RELAY 120-185A CLASS 10A DIFFERENTIAL SZ7 |
| 416784 | RTX THERMAL OVERLOAD RELAY 160-240A CLASS 10A DIFFERENTIAL SZ7 |
| 416786 | RTX THERMAL OVERLOAD RELAY 85-125A CLASS 10A DIFFERENTIAL SZ8 |
| 416787 | RTX THERMAL OVERLOAD RELAY 100-160A CLASS 10A DIFFERENTIAL SZ8 |
| 416788 | RTX THERMAL OVERLOAD RELAY 120-185A CLASS 10A DIFFERENTIAL SZ8 |
| 416789 | RTX THERMAL OVERLOAD RELAY 160-240A CLASS 10A DIFFERENTIAL SZ8 |
| 416790 | RTX THERMAL OVERLOAD RELAY 200-330A CLASS 10A DIFFERENTIAL SZ8 |
| 416791 | RTX THERMAL OVERLOAD RELAY 260-400A CLASS 10A DIFFERENTIAL SZ8 |
| 416792 | RTX THERMAL OVERLOAD RELAY 200-330A CLASS 10A DIFFERENTIAL SZ9 |
| 416793 | RTX THERMAL OVERLOAD RELAY 260-400A CLASS 10A DIFFERENTIAL SZ9 |
| 416794 | RTX THERMAL OVERLOAD RELAY 400-630A CLASS 10A DIFFERENTIAL SZ9 |
| 416795 | RTX THERMAL OVERLOAD RELAY 520-800A CLASS 10A DIFFERENTIAL SZ9 |
| 416800 | CTX³ CTRL RELAY 4NO 24VAC |
| 416801 | CTX³ CTRL RELAY 4NO 24VDC |
| 416804 | CTX³ CTRL RELAY 4NO 110VAC |
| 416806 | CTX³ CTRL RELAY 4NO 230VAC |
| 416809 | CTX³ CTRL RELAY 4NO 415VAC |
| 416810 | CTX³ CTRL RELAY 3NO1NC 24VAC |
| 416811 | CTX³ CTRL RELAY 3NO1NC 24VDC |
| 416814 | CTX³ CTRL RELAY 3NO1NC 110VAC |
| 416816 | CTX³ CTRL RELAY 3NO1NC 230VAC |
| 416819 | CTX³ CTRL RELAY 3NO1NC 415VAC |
| 416820 | CTX³ CTRL RELAY 2NO2NC 24VAC |
| 416821 | CTX³ CTRL RELAY 2NO2NC 24VDC |
| 416824 | CTX³ CTRL RELAY 2NO2NC 110VAC |
| 416826 | CTX³ CTRL RELAY 2NO2NC 230VAC |
| 416829 | CTX³ CTRL RELAY 2NO2NC 415VAC |
| 416840 | CTX³ SAFETY FRONT COVER CTX³ 9A-150A |
| 416841 | CTX³ SAFETY FRONT COVER CTX³ 185A-800A |
| 416842 | TERMINAL COVER UNIT FOR CTX³225 3P |
| 416843 | TERMINAL COVER UNIT FOR CTX³400 3P |
| 416844 | TERMINAL COVER UNIT FOR CTX³800 3P |
| 416845 | TERMINAL COVER UNIT FOR CTX³225 4P |
| 416846 | TERMINAL COVER UNIT FOR CTX³400 4P |
| 416847 | TERMINAL COVER UNIT FOR CTX³800 4P |
| 416849 | CTX³ AUXILIARY CONTACT CTX³40 CTX³85 4P 1NO1NC |
| 416850 | CTX³ AUXILIARY CONTACT FRONT 1NO1NC |
| 416851 | CTX³ AUXILIARY CONTACT FRONT 2NO |
| 416852 | CTX³ AUXILIARY CONTACT FRONT 2NC |
| 416853 | CTX³ AUXILIARY CONTACT FRONT 4NO |
| 416854 | CTX³ AUXILIARY CONTACT FRONT 3NO1NC |
| 416855 | CTX³ AUXILIARY CONTACT FRONT 2NO2NC |
| 416856 | CTX³ AUXILIARY CONTACT FRONT 1NO3NC |
| 416857 | CTX³ AUXILIARY CONTACT FRONT 4NC |
| 416858 | CTX³ AUXILIARY CONTACT SIDE 1NO1NC |
| 416859 | CTX³ AUXILIARY CONTACT SIDECTX³ 185 800 1NO1NC |
| 416870 | CTX³ ELECTRONIC TIMER ON DELAY 1-30S 24-48VAC/DC |
| 416871 | CTX³ ELECTRONIC TIMER ON DELAY 1-30S 110-220VAC |
| 416872 | CTX³ ELECTRONIC TIMER OFF DELAY 1-30S 24-48VAC/DC |
| 416873 | CTX³ ELECTRONIC TIMER OFF DELAY 1-30S 110-220VAC |
| 416874 | CAPACITOR SWITCHING UNIT FOR CTX³ 6A - 40A |
| 416875 | CAPACITOR SWITCHING UNIT FOR CTX³ 50A - 65A Screw connection |
| 416876 | CAPACITOR SWITCHING UNIT FOR CTX³ 50A - 65A Cage terminals |
| 416877 | CAPACITOR SWITCHING UNIT FOR CTX³ 75A - 100A |
| 416879 | INTERLOCK CTX³40 85 4P |
| 416880 | MECHANICAL INTERLOCK FOR CTX³ SZ1-SZ6 |
| 416882 | WIRING KIT FOR INTERLOCK CTX³ SZ2 |
| 416883 | WIRING KIT FOR INTERLOCK CTX³ SZ3 |
| 416884 | WIRING KIT FOR INTERLOCK CTX³ SZ4 |
| 416885 | WIRING KIT FOR INTERLOCK CTX³ SZ5 |
| 416887 | MECHANICAL INTERLOCK UNIT CTX³ 180A-400A |
| 416888 | MECHANICAL INTERLOCK UNIT 3P CTX³ 500A-800A |
| 416889 | MECHANICAL INTERLOCK UNIT CTX³ 4P 500A-800A |
| 416890 | MANUAL MOTOR STARTER ENCLOSURE W/O BUTTON FOR CTX³ SZ1,2 MAX 22A |
| 416891 | MANUAL MOTOR STARTER ENCLOSURE ON/OFF BUTTONS FOR CTX³ SZ1,2 MAX 22A |
| 416892 | RTX REMOTE RESET CABLE L400MM |
| 416893 | RTX REMOTE RESET CABLE L500MM |
| 416894 | RTX REMOTE RESET CABLE L600MM |
| 416895 | CTX³ VARISTOR 24V-48V AC/DC |
| 416896 | CTX³ VARISTOR 100V-125V AC/DC |
| 416897 | CTX³ VARISTOR 200V-240V AC/DC |
| 416898 | CTX³ VARISTOR 380V-440V AC |
| 416906 | CTX³ SPARE COIL T1,2 230V AC |
| 416926 | CTX³ SPARE COIL T3 230V AC |
| 416936 | CTX³ SPARE COIL T4 230V AC |
| 416946 | CTX³ SPARE COIL T5 230V AC |
| 416956 | CTX³ SPARE COIL T6 230V AC |
| 416966 | CTX³ SPARE COIL T7 100V-240V AC/DC |
| 416976 | CTX³ SPARE COIL T8 100V-240V AC/DC |
| 416986 | CTX³ SPARE COIL T9 200V-240V |
| 417000 | CTX³ MINI CONTACTOR 3P 6A 1NO 24VAC |
| 417001 | CTX³ MINI CONTACTOR 3P 6A 1NO 24VDC |
| 417004 | CTX³ MINI CONTACTOR 3P 6A 1NO 110VAC |
| 417006 | CTX³ MINI CONTACTOR 3P 6A 1NO 230VAC |
| 417009 | CTX³ MINI CONTACTOR 3P 6A 1NO 415VAC |
| 417010 | CTX³ MINI CONTACTOR 3P 6A 1NC 24VAC |
| 417011 | CTX³ MINI CONTACTOR 3P 6A 1NC 24VDC |
| 417014 | CTX³ MINI CONTACTOR 3P 6A 1NC 110VAC |
| 417016 | CTX³ MINI CONTACTOR 3P 6A 1NC 230VAC |
| 417019 | CTX³ MINI CONTACTOR 3P 6A 1NC 415VAC |
| 417020 | CTX³ MINI CONTACTOR 3P 9A 1NO 24VAC |
| 417021 | CTX³ MINI CONTACTOR 3P 9A 1NO 24VDC |
| 417024 | CTX³ MINI CONTACTOR 3P 9A 1NO 110VAC |
| 417026 | CTX³ MINI CONTACTOR 3P 9A 1NO 230VAC |
| 417029 | CTX³ MINI CONTACTOR 3P 9A 1NO 415VAC |
| 417030 | CTX³ MINI CONTACTOR 3P 9A 1NC 24VAC |
| 417031 | CTX³ MINI CONTACTOR 3P 9A 1NC 24VDC |
| 417034 | CTX³ MINI CONTACTOR 3P 9A 1NC 110VAC |
| 417036 | CTX³ MINI CONTACTOR 3P 9A 1NC 230VAC |
| 417039 | CTX³ MINI CONTACTOR 3P 9A 1NC 415VAC |
| 417040 | CTX³ MINI CONTACTOR 3P 12A 1NO 24VAC |
| 417041 | CTX³ MINI CONTACTOR 3P 12A 1NO 24VDC |
| 417044 | CTX³ MINI CONTACTOR 3P 12A 1NO 110VAC |
| 417046 | CTX³ MINI CONTACTOR 3P 12A 1NO 230VAC |
| 417049 | CTX³ MINI CONTACTOR 3P 12A 1NO 415VAC |
| 417050 | CTX³ MINI CONTACTOR 3P 12A 1NC 24VAC |
| 417051 | CTX³ MINI CONTACTOR 3P 12A 1NC 24VDC |
| 417054 | CTX³ MINI CONTACTOR 3P 12A 1NC 110VAC |
| 417056 | CTX³ MINI CONTACTOR 3P 12A 1NC 230VAC |
| 417059 | CTX³ MINI CONTACTOR 3P 12A 1NC 415VAC |
| 417060 | CTX³ MINI CONTACTOR 3P 16A 1NO 24VAC |
| 417061 | CTX³ MINI CONTACTOR 3P 16A 1NO 24VDC |
| 417064 | CTX³ MINI CONTACTOR 3P 16A 1NO 110VAC |
| 417066 | CTX³ MINI CONTACTOR 3P 16A 1NO 230VAC |
| 417069 | CTX³ MINI CONTACTOR 3P 16A 1NO 415VAC |
| 417070 | CTX³ MINI CONTACTOR 3P 16A 1NC 24VAC |
| 417071 | CTX³ MINI CONTACTOR 3P 16A 1NC 24VDC |
| 417074 | CTX³ MINI CONTACTOR 3P 16A 1NC 110VAC |
| 417076 | CTX³ MINI CONTACTOR 3P 16A 1NC 230VAC |
| 417079 | CTX³ MINI CONTACTOR 3P 16A 1NC 415VAC |
| 417080 | RTX MINI THERMAL OVERLOAD RELAY 0.1-0.16A CLASS 10A DIFFERENTIAL |
| 417081 | RTX MINI THERMAL OVERLOAD RELAY 0.16-0.25A CLASS 10A DIFFERENTIAL |
| 417082 | RTX MINI THERMAL OVERLOAD RELAY 0.25-0.4A CLASS 10A DIFFERENTIAL |
| 417083 | RTX MINI THERMAL OVERLOAD RELAY 0.4-0.63A CLASS 10A DIFFERENTIAL |
| 417084 | RTX MINI THERMAL OVERLOAD RELAY 0.63-1.0A CLASS 10A DIFFERENTIAL |
| 417085 | RTX MINI THERMAL OVERLOAD RELAY 1.0-1.6A CLASS 10A DIFFERENTIAL |
| 417086 | RTX MINI THERMAL OVERLOAD RELAY 1.6-2.5A CLASS 10A DIFFERENTIAL |
| 417087 | RTX MINI THERMAL OVERLOAD RELAY 2.5-4.0A CLASS 10A DIFFERENTIAL |
| 417088 | RTX MINI THERMAL OVERLOAD RELAY 4-6A CLASS 10A DIFFERENTIAL |
| 417089 | RTX MINI THERMAL OVERLOAD RELAY 5-8A CLASS 10A DIFFERENTIAL |
| 417090 | RTX MINI THERMAL OVERLOAD RELAY 6-9A CLASS 10A DIFFERENTIAL |
| 417091 | RTX MINI THERMAL OVERLOAD RELAY 7-10A CLASS 10A DIFFERENTIAL |
| 417092 | RTX MINI THERMAL OVERLOAD RELAY 9-13A CLASS 10A DIFFERENTIAL |
| 417093 | RTX MINI THERMAL OVERLOAD RELAY 12-16A CLASS 10A DIFFERENTIAL |
| 417140 | CTX³ MINI CONTACTOR 4P 16A 24VAC |
| 417141 | CTX³ MINI CONTACTOR 4P 16A 24VDC |
| 417144 | CTX³ MINI CONTACTOR 4P 16A 110VAC |
| 417146 | CTX³ MINI CONTACTOR 4P 16A 230VAC |
| 417149 | CTX³ MINI CONTACTOR 4P 16A 415VAC |
| 417150 | CTX³ MINI AUXILIARY CONTACT FRONT 1NO1NC |
| 417151 | CTX³ MINI AUXILIARY CONTACT FRONT 2NO |
| 417152 | CTX³ MINI AUXILIARY CONTACT FRONT 2NC |
| 417153 | CTX³ MINI AUXILIARY CONTACT FRONT 4NO |
| 417154 | CTX³ MINI AUXILIARY CONTACT FRONT 3NO1NC |
| 417155 | CTX³ MINI AUXILIARY CONTACT FRONT 2N02NC |
| 417156 | CTX³ MINI AUXILIARY CONTACT FRONT 1NO3NC |
| 417157 | CTX³ MINI AUXILIARY CONTACT FRONT 4NC |
| 417158 | CTX³ MINI AUXILIARY CONTACT SIDE 1NO |
| 417159 | CTX³ MINI AUXILIARY CONTACT SIDE 1NC |
| 417160 | CTX³ MINI MECHANICAL INTERLOCK |
| 417176 | CTX³ MINI SPARE COIL 230V AC |